Dehlvi Naturals- A Profile
Over 90 Years of Tradition Continues...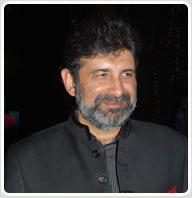 Dehlvi Naturals is a dynamic organisation engaged in manufacturing and marketing of Unani & Ayurvedic formulations. The organisation has been promoted by Mohsin Dehlvi, son of Mohd. Ilyas Dehlvi and grandson of the legendary Hafiz Mohammed Yusuf Dehlvi, founder of THE SHAMA GROUP. It was in 1978 that Mohsin Dehlvi joined his grandfathers' herbal manufacturing business (founded in 1926). Following the footsteps of his illustrious grandfather, Mohsin Dehlvi has maintained strict quality and purity controls and has improved presentation and packaging, without in the least sacrificing the traditional values. The company draws its strength from its team of experienced manufacturing and practicing Hakims and Vaids (Arabic and Indian words, literally meaning physicians). In a short span of time Dehlvi Naturals has become one of the most respected companies in India.
Dehlvi Naturals offer over 600 Herbal Health Care products, Toiletries and Diet Supplements are waging a relentless war against all diseases afflicting humanity. With continuous improvements and research in processing and manufacturing techniques, Dehlvi Naturals brings you tried and trusted formulations, improved with modern research. The strict specifications set by the masters of Unani & Ayurvedic Herbal Supplements are followed religiously. The products are registered as per norms prescribed by the Drug Controller of India / FDA and are GMP certified.
The Company has been awarded the Hakim Ajmal Khan Global Award in the year 1997 for "Best Unani Manufacturing Company" and in the year 2010 for "Best Manufacturing Company for Modernizing Unani System of Medicine".
Currently the company has its presence in UK, USA, South Africa, Hungary, Malaysia, Maldives, Germany and Ukraine and soon our products will be available in Mauritius, Romania and France and many more to follow.